For Indoor and Outdoor Use
For Wheelchairs, Rolling Loads or Prams
---
Features:
Available in different lengths depending on the number of steps and can be customised.

Textured surface for additional traction grip and safety.

Safety ledge helps to keep wheels/person walking from slipping off the ramp.
Hinge brackets that allow the ramp to easily fold in half. Handle/s for easy portability.

Yellow radium safety edging to help visually impaired people to see the edges of the ramp. This would also facilitate easy viewing at night.

Provision for permanent and semi-permanent installation methods.
Include has designed 40+ ramps for places like:
National Centre for the Performing Arts (NCPA)-Mumbai, Fabindia- Mumbai, Blue Frog- Mumbai, Bombay International School- Mumbai, Willingdon Club- Mumbai, Radio Club- Mumbai, Planet Abled tours- Delhi, Happy Home and School for the Blind- Mumbai, Five Wheels Pvt. Ltd- Quango Scooters- Bengaluru, Explore Differently tours- Chennai, and many other buildings across India!
---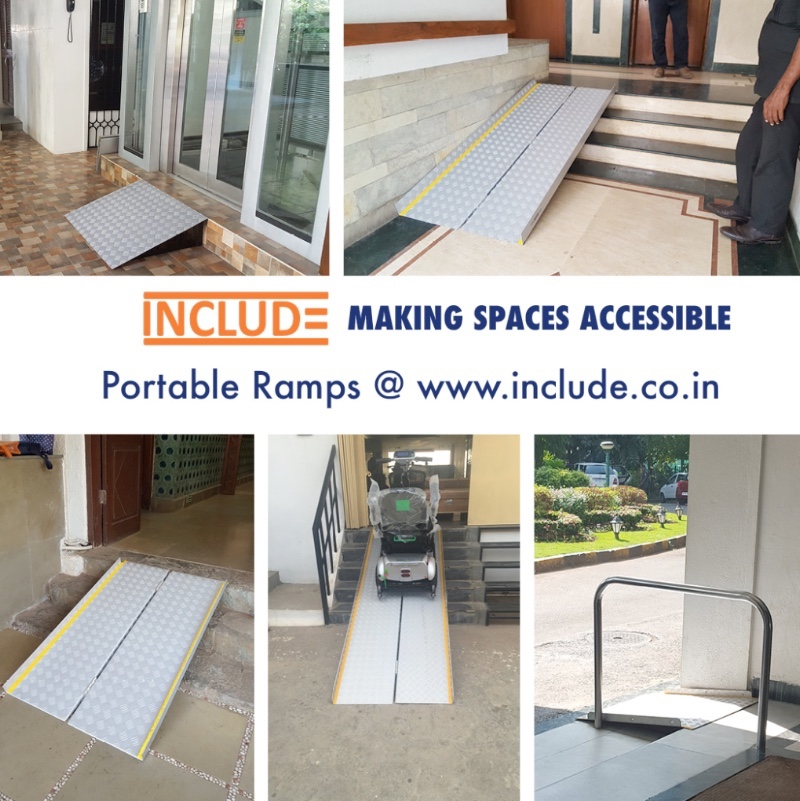 For details, orders and customisation call +91 9930077517
"Every building should have at least one entrance accessible to the handicapped and shall be indicated by proper signage. This entrance shall be approached through a ramp together with the stepped entry."
- Guidelines and Space Standards for Barrier Free Built Environment for Disabled and Elderly Persons. CPWD Ministry of Urban Affairs and Employment, India, 1998